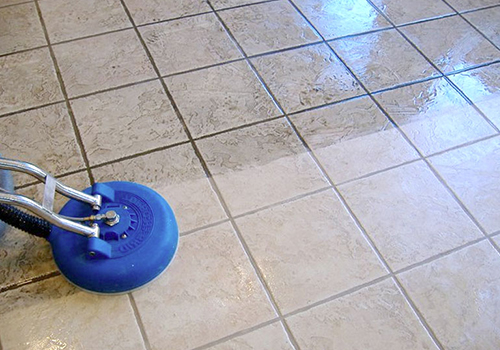 Spring cleaning and fall upkeep are crucial, but they're usually just the beginning of getting a home clean. Even in the deepest of home cleanings, some areas of the house get missed. One of these places is often your tile and grout. Though you may keep your floors looking sharp with regular cleaning and sanitization, your grout can often look dull, dingy, and detract from the beauty of your flooring. A professional tile and grout cleaning can do wonders for your flooring, making it appear cleaner and the rest of your home with it.
Here is what you can expect from the process.
Tile and Grout Cleaning Tools
At Professional Surface Restoration, we use specialized cleaning equipment that combines several different processes, such as heat, high pressure, vacuum extraction, and emulsification to remove dirt from the toughest of spaces and keep your floors looking their best. To begin the process, we use a detergent to pre-spray your surface. Then we use high pressure multi jet rotating steam tool to continuously extract dirt and water from your floors. The temperature of the water is between 180-270 degrees, effectively sanitizing the floor as it cleans.
After the floor surface is clean, we close the pores in your grout, which helps keep the dirt from penetrating again. Water based sealant is both safe and effective; it will not change the look of your tile or its longevity.
Why Schedule a Tile and Grout Cleaning?
Tile and grout cleaning is an essential aspect of keeping your floors sanitized. Over time, grout can get very dirty because it is naturally porous. If a contractor does not seal the grout correctly, it can happen sooner than it should. Grout absorbs bacteria, grease, mildew, dirt and other particles that are not only unpleasant to look at but can also affect the indoor air quality of your home. Left unchecked, it can begin to emit a foul odor.
Regular tile and grout cleanings help control odor, fight bacteria, and keep your tile and grout looking new. But how often should you schedule cleanings? The answer will depend on the amount of time you spend in the space. Higher traffic floors, like a kitchen, will require more frequent cleanings than a less used room. In general, plan for a good professional cleaning every 2 to 5 years.
A professional tile and grout cleaning is a must to keep your floors and family healthy. Professional Surface Restoration offers professional tile and grout cleanings for homes and businesses all over metro Toledo. Contact us for more information or to schedule a free demo.