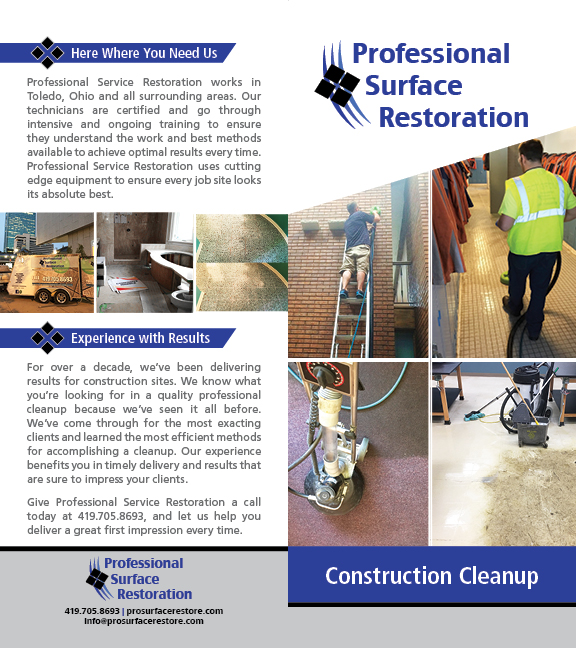 Construction cleanup is often the last detail of a job, and one most often overlooked. What the client sees when they step onto the premises is what creates the first – and the most lasting – impression. You've delivered high quality work all through the job; don't let the cleanup convey the impression of a haphazard, unprofessional work ethic.
The experts of Professional Service Restoration make the final step in the process just as high-quality as the rest of the work you perform.
Meticulous Attention to Detail
Professional construction cleanup requires a ruthless determination to nail down every detail.
Our expert service includes:
Cleaning outside and inside of cabinets and drawers.
Polishing fixtures and door handles.
Vacuuming carpets and cleaning of all floor coverings.
Washing windows inside and out, including catching the dust and debris in window tracts.
Cleaning appliances and countertops.
Pick up debris and trash from interior and deposit into dumpster on site.
Cleaning glass and mirrors.
No detail is overlooked, and we thoroughly inspect the property to ensure the best results on every job.
Here Where You Need Us
Professional Service Restoration works in Toledo, Ohio and all surrounding areas. Our technicians are certified and go through intensive and ongoing training to ensure they understand the work and best methods available to achieve optimal results every time. Professional Service Restoration uses cutting edge equipment to ensure every job site looks its absolute best.
Construction Cleanup Experience with Results
For over a decade, we've been delivering results for construction sites. We know what you're looking for in a quality professional cleanup because we've seen it all before. We've come through for the most exacting clients and learned the most efficient methods for accomplishing a cleanup. Our experience benefits you in timely delivery and results that are sure to impress your clients.
Give Professional Service Restoration a call today at (419) 705-8693, and let us help you deliver a great first impression every time.