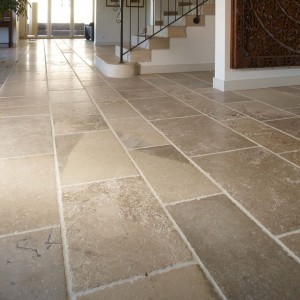 Natural stone floors are a beautiful addition to your home's interior. Stone is a natural flooring option that uses no dangerous chemicals, but it needs a little extra TLC to stay beautiful. Let's look at some dos and don'ts for natural stone floor cleaning.
Prevention Goes a Long Way
Prevention is the key to reducing long-term damage. By reducing the amount of dirt and any spills on the surface of the tile, you can keep your floors looking beautiful for their whole life. Remember to always:
Remove dirt and sand from the surface of your natural stone floor to avoid scratches.
Clean up spills as soon as possible to avoid the liquid leeching into the surface of the stone. Liquids such as lemon juice, cola, and orange juice can cause permanent damage to the stone's surface if not cleaned up immediately.
Use non-slip rugs near entryways to keep dirt from tracking through the house. Stone floors are also slippery when wet.
One of the best methods to protect your natural stone floors is to have them sealed properly. Be sure to choose the proper sealant, and use as directed, or have it professionally done. Having your floors sealed can prevent spills from soaking in and staining or damaging the floors.
Natural Stone Floor Cleaning Tips
Sweep your stone floors daily to remove dirt and grime. You can also vacuum up the dirt and dust for best results. Keeping the dirt off the tiles will slow deterioration of the stone's surface. Some stone experts believe you should mop stone floors with clear water daily to remove day-to-day build-up.
If using cleaners, they should be designed for stone care. You can also use a solution made of vegetable soap and water. Follow up daily care with regular deep cleanings. Homes with children and pets will require more frequent deep cleanings of the stone.
Don'ts for Stone Floors
While stone floors are fairly durable, there are a few don'ts you need to observe. By avoiding these few things, you'll be able to keep your stone floors looking beautiful far longer.
Don't use lemon juice, vinegar, or other cleaners containing acids. They will damage the stone's surface.
Don't use commercial cleaners unless they say specifically they are safe for marble or stone surfaces.
Don't use a vacuum cleaner with worn or missing wheels. They will scratch the surface of your floor.
With a little prevention and daily care, your stone floors will be around for a long time. They will add warmth and beauty to the interior of your home for generations to come. If you are looking for a new flooring option, consider adding stone floors to your home.
For questions about  natural stone cleaning, call Professional Surface Restoration at (419) 705-8693 today.