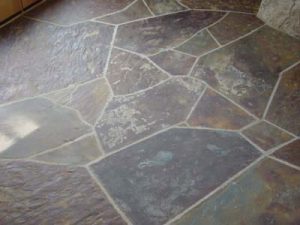 Natural stone flooring is an elegant, striking, and beautiful addition to any home. Stone floors are investments that homeowners should protect. Over time, natural stone floors can continue to shine like new and look their best, even with daily wear and tear. However, it will take a bit of maintenance on your part. Use these natural stone cleaning tips to preserve your flooring.
Dust Mop, Sweep, and Vacuum Regularly
Dirt and dust particles can scratch the surface of natural stone floors. One of the best maintenance tips for these types of floors is to regularly remove particles from the surface. Using a vacuum, soft-bristle broom, or dust mop frequently can eliminate abrasive materials and prevent harmful scratching. Never clean with anything that could scratch, etch, or damage the surface of the natural stones. Think soft, light, and gentle when removing dirt from your floors.
Do Not Use Typical Floor Cleaning Products
You may come across tips in cleaning blogs that recommend using products such as wax removers, grout removers, acid or bleach cleaners, and scouring pads to clean floors. DO NOT use these products on natural stone floors. Natural stone is durable, but does not do best with harsh chemical cleaners and abrasive materials. These can dull, damage, or stain the stone. To maintain your natural stone floors and keep them like new, only use neutral cleaners and those approved for use on natural stone.
Perform Light Cleaning Regularly
A typical natural stone cleaning involves dampening the surface of the stone with water, using a safe cleaning solution, and applying with a sponge or mop. You may also want to apply a finish periodically to increase the shine and luster of polished stone floors. There may be occasions, however, where a deep floor cleaning is necessary. For example, you may want to deep clean if you've neglected regular maintenance.
Heavy Duty Floor Clean Now and Then
To deep clean your natural stone floors, use a heavy-duty, non-hazardous stone cleaner and degreaser. Look for products with low percentages of volatile organic compounds to prevent floor damage. Apply the cleaner in a solution mixed with water with a sponge or mop. Follow directions for how long to let it sit. Mop up the solution and buff the floors dry. Rinse with clean water when finished.
Contact our team today to schedule a free, no-obligation demonstration of our amazing natural stone cleaning system in Toledo for your home or business.