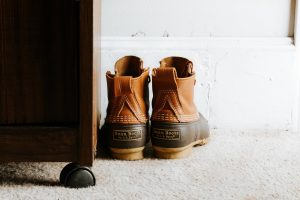 Your carpet is an investment in your home. Most homeowners choose a carpet because they like the way it looks and feels. A great carpet is warm and inviting to your bare feet. Incorporating certain carpet cleaning practices can help you protect your investment and extend the life of the carpet.
Here are five ways to prolong the life of your carpet:
Take Off Your Shoes
Taking your shoes off and leaving them at the door can go a long way for the life of your carpet. Tests have shown that it takes up to 17 steps for all of the dirt from outside to come off of your shoes. That means the first 17 steps you take into your home you are tracking dirt onto the carpet. Leaving the shoes off helps to keep your carpet free of dirt and debris from outside and leaves your carpet looking new.
Vacuum Regularly
It can be easy to forget to vacuum if your carpet does not look dirty. It is recommended for an active family household to vacuum two to three times a week. During those times you should be making four to six passes in high traffic areas and two to three in low traffic.
The bag or bagless cylinder should be less than half full when you begin vacuuming. Check the brushes of the vacuum and make sure they are not worn or full of hair and lint. Run the vacuum over the entire surface of the carpet, not just the areas where you can see crumbs or dirt.
Clean Spots Right Away
It is important to clean spot stains on the carpet as soon as they happen. Spot cleaning will help to keep the life and appearance of the carpet intact. For liquid spills, blot the spot with a clean white towel. This should remove the liquid before causing a carpet stain.
Schedule a Regular Cleaning
A professional carpet cleaning every one to two years can extend its life. Professional Surface Restoration's carpet cleaning process gets deep into the carpet and removes more soil and stains than a typical steam cleaning.
Rearrange the Furniture
Heavy furniture can be tough on the carpet. If you keep your furniture in the same place for the life of your carpet, the areas where they have been sitting will be damaged. If the size of your room allows, move the furniture regularly.
Create a Plan
Build a plan that will work best for your family from the above recommendations. It is important to schedule regular vacuuming and carpet cleaning into your routine, so it becomes a habit. Keep an eye on areas below furniture to make sure they are not weathering unevenly. These easy steps can help save you time and money in the long run.
Professional Surface Restoration's patented process cleans hard surfaces including but not limited to, tile and grout, brick, block, concrete, granite, and marble Terrazzo. Our unique process for hard surface cleaning is revolutionizing the way you restore and maintain all floors back to their natural beauty, including carpet! Call us today at (419) 705-8693 to request a FREE demo.